[Update 11/25/2015 added a few images created by others]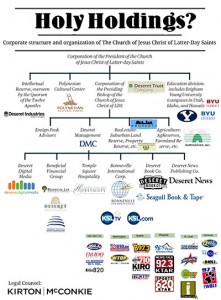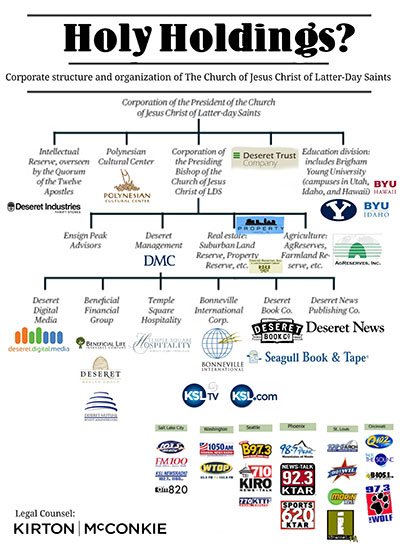 Corporation of the President (Corporate Sole  all assets owned by President of the Church)
Board of Directors -> First Presidency and 12 apostles
 Investigation by Reuters in collaboration with sociology professor Cragun estimates that the LDS Church is likely worth $40 billion today and collects up to $8 billion in tithing each year.
In 1960, President McKay decided that all general authorities, including the prophet should receive equal salaries
Corporation of the Presiding Bishopric
Deseret Management Corp – Keith B. McMullin is CEO Board(First Presidency, Presiding Bishopric and three rotating of the 15 apostles)
annual revenue of $1.2 billion 10% flows back to the corporation of the presiding bishopric.  Kieth McMullin (former Presiding Bishopric member) stated that money can flow from the church to the corporations but happens rarely.
about 2,000 to 3,000 employees. possibly including  1,400 "people who are volunteering their time and their services—some are part-time and some are volunteer." Many of these members being asked to serve full- or part-time are retirees.
Subsidiaries
Beneficial Financial Group (chairman: Harold C. Yancey Board Members (Kim Clark, Ned Hill) CEO (Kent Cannon): insurance, investment, and retirement services. Assets worth $3.3 billion (source: Hoover's Company Records)
Bonneville International Corporation (CEO: Jeff Simpson president: Darrell Brown Board Members: Mark Willes, Paul Leonard Jr., Jim Wall, Clark Gilbert, Roland Radack, Sheri Dew, Jane Johnson, D. Bullock): manages radio stations nationwide.  Gordon B. Hinkley was chairman of the board until 1993
Divisions
     Bonneville Communications
     Bonneville Interactive
     Bonneville Satellite Company
     

KSL-FM-102.7

     KSL

-1160 

**
     KSL-FM/KSFI

-100.3 

* (FM100)
  KMVP

-860

  KTAR

-620

  KTAR-FM

-92.3

  KMVP-FM

-98.7

  KSWD

-100.3

  KRSP-FM

-103.5

  KTTH

-770

Deseret Book (Chairman: Sherry Dew) Board (JoAnn Mills Ardeth Greene Kapp ) : LDS publisher and bookstores chain.
   Beehive Clothing
   Bookcraft (merger)
Deseret Mutual: Provides medical, dental, life, and disability insurance, retirement and savings benefits to Deseret Management Corporation employees, and health insurance to LDS Missionaries and General Authorities.[5]
Deseret News Publishing Company: Publishes Utah's second-largest daily newspaper, the Deseret News, along with Mormon Times, Church News and El Observador.
Hawaii Reserves: manages commercial and residential properties in Lā'ie,  (

 7,000 acres on Oahu) 

Hawai'i.
Laie Water Company

Laie Treatment Works

Laie Shopping Center

Laie Park

Laie Cemetery

Hukilau Beach Park

HRI also owns many residential and commercial properties in the town as well as road management and public works service

Temple Square Hospitality: operates downtown Salt Lake City properties such as the Lion House and the Joseph Smith Memorial Building. (550 employees, 4 restaurants)
Zions Securities: Real estate company which manages apartments and commercial property, particularly in downtown Salt Lake City.
The LDS Foundation is the department of The Church of Jesus Christ of Latter-day Saints that encourages and facilitates voluntary charitable contributions to the Church Educational System and other charities of the Church. I

t now operates under the direction of the Presiding Bishopric (This company reports directly to the DMC yet is called a department)

LDS Philanthropies – a department of the Office of the Presiding Bishopric responsible for philanthropic donations to The Church of Jesus Christ of Latter-day Saints and its affiliated charities. (Seems to be an actual department, but operates similar to a stand alone Non-profit)
Divisions:
Deseret Digital Media: Operates the Web sites of other DMC media companies:

  

FM100.com

, and 

Deseret Media Companies: Helps operate Deseret Management's media focused subsidiaries.
KSL Broadcast Division: Operates KSL-TV & KSL Newsradio in Salt Lake City, Utah, for the Bonneville International Corporation.
Intellectual Reserve, Inc (IRI) is a non-profit corporation (the actual "Church" part of the church
Correlation committee fits here
Deseret Industries (D.I.) is a non-profit organization and a division of Welfare Services of The Church of Jesus Christ of Latter-day Saints (LDS Church)
Deseret Ranches – ranching operations of Corporation of the President of The Church of Jesus Christ of Latter-day Saints in Central Florida. The Ranches include several organizations including:
$1 billion, 290,000-acre 

Deseret Ranches

 in Florida

 Deseret Cattle and Citrus
Taylor Creek Management
East Central Florida Services
Farmland Reserve.
Hunting preserve (Elk ranch) 

generating $100,000 annually.
1 million acres in the continental U.S
Ensign Peak Advisors – investment management affiliate of the Church of Jesus Christ of Latter-Day Saints.  Listed as 50 N. Temple (Church Headquarters) as the company's address.  Sells shares of stock.  President Roger G. Clarke
Polynesian Cultural Center (PCC) –  in 2010, net assets worth $70 million and collected $23 million in ticket sales alone, as well as $36 million in tax-free donations
Universities and Schools
Brigham Young University

 

(often referred to as 

BYU

 or, colloquially, 

The Y

) is a 

private

 

university

 located in 

Provo, Utah

, United States. It is owned and operated by 

The Church of Jesus Christ of Latter-day Saints

 (LDS Church), and, excluding online students, is the largest religious university and one of the largest private universities in the U.S., with 34,000 on-campus students

BYU Idaho (Chairman: Kim Clark)
BYU Hawaii
LDS Business College (LDSBC

) is a two-year college in 

Salt Lake City, Utah

, focused on training students in business and industry. The college is owned by 

The Church of Jesus Christ of Latter-day Saints

 (LDS Church) and operates under its 

Church Educational System
Elementary and secondary schools
Mexico
Pacific Islands
MDU Resources Group, INC. – Purchases stock from Ensign Peak Advisors
Zions Securities Corporation (ZSC) is a subsidiary of Property Reserve Inc., which manages property owned by the Corporation of the President of The Church of Jesus Christ of Latter-day Saints. January 2012, Zions Securities Company changed its name to Utah Property Management Associates, LLC, (UPMA)
Class A Commercial buildings

Beneficial Tower
City Creek Center (

Spencer P. Eccles from the Utah Governor's Office of Economic Development, the mall cost the church an estimated $2 billion, part of the $5 billion church-funded revamping of downtown Salt Lake City

Deseret News Building
Eagle Gate Plaza & Office Tower
Key Bank Tower
Social Hall Plaza
Zions Bank BuildingM

Class B Commercial buildings

UPMA also owns and operates several other commercial properties in downtown Salt Lake City, including the McIntyre Building, Deseret Book Building, Orpheum Office Plaza, and the Eagle Gate Parking Plaza.

Residential properties

[

edit

]

UPMA currently owns and operates the following residential properties in and around Salt Lake City:

Brigham Apartments
Colonial Court Apartments
Eagle Gate Apartments
Gateway Condominiums
West Temple Apartments
Garden Apartments
First Avenue Apartments

Mixed use properties

[

edit

]
Agreserves Inc.
Agreserves Australia LTD Kooba Station,Australia.
Deseret Ranches of Alberta Raymond,AB Canada
Agreserves LTD Cambridge,England
AgroReservas, S.C. Los Mochis, Mexico
Deseret Farms of CA Woodland, CA
Deseret Farms of CA Modesto,CA
Deseret Farms of CA Chico,CA
South valley Farms Bakersfield, CA
Deseret Security Farms Blythe, CA
Naples Farms Naples,FL
Deseret Cattle & Citrus ST. Cloud, FL
Deseret Farms of Ruskin Ruskin, FL
Kewela Plantation O'ahu,HI
Rex Ranch Ashby, NE
Riverbend Farms ST.Paul, OR
Deseret Land & Livestock Woodruff, UT
Wasatch-Dixie Farms Elberta, UT
Agreserves Cottle CO.,TX
Agrinorthwest kennewick,WA
Handcart Ranch Alcova, WY
Deseret Ranches of Wyoming Cody,WY
Farm Management Corporation (commericial farms and agricultural properties)
Deseret Land and Livestock – 200,000 acres of land in Rich, Morgan and Weber counties (Utah)
Sun Ranch (Martin's Cove)
Deseret Ranches of Florida (Orlando) (largest ranch in Florida)
Deseret Farms of California
Rolling Hills (Idaho)
West Hills Orchards (Elberta, Utah)
Cactus Lane Ranch (Arizona)
Deseret Trust Company
LDS Family Services
Property Reserves Inc. (PRI)
Deseret Mutual Benefit Administrators (DMBA) – http://www.dmba.com/
Welfare Square is a complex in downtown Salt Lake City, Utah owned and operated by The Church of Jesus Christ of Latter-day Saints
Charitable aide
According to an official church Welfare Services fact sheet, the church gave $1.3 billion in humanitarian aid in more than 178 countries and territories during the 25 years between 1985 and 2010. A fact sheet from the previous year indicates that less than one-third of the sum was monetary assistance, while the rest was in the form of "material assistance." All in all, if one were to evenly distribute that $1.3 billion over a quarter-century, it would mean that the church gave $52 million annually. A study co-written by Cragun and recently published in Free Inquiry estimates that the Mormon Church donates only about 0.7 percent of its annual income to charity http://mobile.businessweek.com/articles/2012-07-10/how-the-mormons-make-money
"Like most major churches, the exact tally of LDS assets is difficult to come by. In July 2007, the Salt Lake Tribune covered an Oregon Supreme Court ruling ordering the church to publicize its financials in connection with a lawsuit from an alleged abuse victim, noting that it had not disclosed such information since 1959. In 1997, Time Magazine found that current LDS assets totaled $30 billion. If LDS were a corporation, Time continued, its estimated $5.9 billion in annual revenues would have placed it midway through the Fortune 500.

The LDS church has taken ambitious strides to preserve and grow its wealth over the years. Beneficial Financial Group, a $3.1 billion insurance company with annual revenues exceeding $600 million, is wholly owned by the church. LDS also owns theDeseret Morning News, Utah's second-largest newspaper. Bonneville International Corporation, which controls over two dozen top radio stations across six states, is also wholly owned by LDS through Deseret Management Corporation, the church's for-profit arm. Another $6 billion of church money was said by Time to be tied up in "unspecified investments." All of these activities, it should be noted, are categorized as "unrelated business income" and subject to state and federal taxes."
Slightly older image (1991) but more complete: