Happy 2016, everyone.
I've heard a few people say "Where are the great Mithryn posts?  Why are their fewer timelines in my life?  What new eclectic features of Church History am I missing out on?"
Okay, no; no one is saying that; but I still wanted to explain
I have a new job.  It doesn't require 20-60 minutes of sitting while data processes.  That cuts into "Mithryn" time
I have been terribly ill for a week and a half
I got Fallout 4 for Christmas.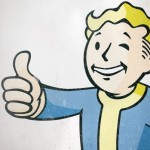 Continue reading →