Elder Ballard spoke on 9/11/2016 to a multi-stake conference.  My family attended, warning, this post is going to get a bit more personal.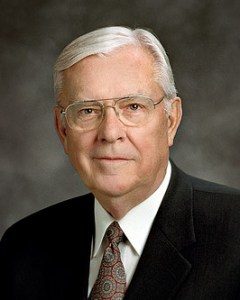 The Audio is here: http://www.mormonstories.org/m-russell-ballard-regional-broadcast-9-11-2016/
My Transcript of key items and the time they are said is below
Now Elder Ballard is a grown man, and can speak where and when he wishes, but a quick fact check shows that this is mostly bullshit.
First of all he re-iterates that people who leave the church are misled by satan.  He echoes that one can prevent apostasy from scripture, prayer, temple attendance, regular sacrament attendance, etc. that I am hard evidence against.  I was reading scriptures like a madman, serving as an elder's quorum instructor, engaged in family and personal prayer when my shelf came crashing down.
People don't leave the church because of being offended, sinning and forgetting to read a book.  They leave because their trust is compromised.  My trust was compromised when I caught a temple president lying to the patrons in the temple; and then he blamed my brother for telling me the details I needed to know to bust him.  That was the start to my hard-core investigation that lead to this blog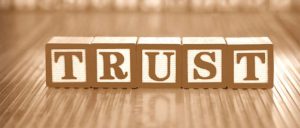 Secondly; he claimed:
The Church is dedicated to transparency and has published precious resources to provide even more context to the story of the restoration. Through the JSPP website, and the gospel topic essays and on LDS.org
Mr. Ballard, please open the financial books for transparency
Mr. Ballard, please open the vault for historians if you believe in transparency, specifically the McLellin papers and Oliver Cowdery's diary and papers, but I'd love to see the "Mormon Erotica" stored in the vault as well
Mr. Ballard, you are giving a talk on September 11th.  Do you remember what happened on September 11th?  No no, not the planes.  That's right, the massacre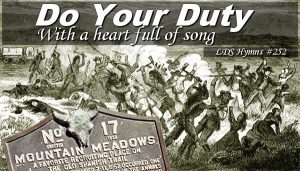 That's right, when LDS members followed their stake president's orders to "Do their duty" and slaughter 120 men, women and children.  In 2007, the Ensign finally admitted that it wasn't the Piute indians who committed the act, which is MORE transparent, but to say "Committed to Transparency" means you need to do even more.  You need to admit that the religion deceived members in official materials like the Seminary Manual I learned from.  You need to change the article and remove "Militia" and put the word "Stake Activity" in its place.  You need to be transparent; which means not misdirecting the reader to believe this was a Bundy-style land takeover that Brigham was unaware of; but rather that discussions were made with Brigham and his final order not to do it arrived too late; but he thought about having the people massacred at least.  You need to admit that the church prevented justice for those who committed the heinous act and that Gordon B. Hinkley lied about it in 1999.
Do you see the degree of Hypocrisy of giving a talk  on September 11th claiming full transparency and blaming those who leave the church for being lazy or deceived by Satan while you lie to the faithful?
Well, Mr. Ballard, my family had a talk about your lies afterwords, and my children were offended.  Not offended as in they will leave the church (who leaves because they were offended really) no, offended that you'd lie to them so brazenly.  Offended they didn't know about the Mountain Meadows Massacre and that the church covered up so much about such a tragic incident.
Mr. Ballard, what I'm going to say next may sound harsh, but I'm just quoting scripture.
1:55 – He states he is giving his own Epistle. That's like saying this is canonized scripture, right?
4:55 – Lord has blessed you
6:33 – reminder that sanitation and entertainment is great for us… (no mention of how religion did not contribute to such things)
6:44 – Shout out to Farms
7:20 – Prospering in the land (yay for prosperity gospel)
7:53 – Recommendations for spiritual health
8:20 – Scriptural reference to apostates and those who would pervert the gospel of Christ
9:00 – Reminder that life is black and white, good and evil
9:40 – False prophets mentioned
9:56 – "You have witnessed some of the very elect being deceived"
Random discussion of trees
11:55 – "All appearances of being tall and erect in faith, die in faith". Interesting discussion as he implies the trees shifted away from the water, when in his example the water was poisoned. "Dying trees may imply a rotten water source" could have been the title, and the same example used by exmormons
12:55- old fallacy that reading scriptures, fasting, temple work and praying will protect from apostasy. "Real Intent, without hypocracy and full purpose of heart" no true scottsman fallacy invoked
14:10 – Failing to Work with the poor mentioned as a cause of apostasy… might be that a church that fails its poor is in apostasy too, no?
14:20 – Satan invoked as the reason people fall away; along with "sin and guilt cloud the mind"
15:00 – "Individuals who don't stay focused on the simple doctrines of the gospel will eventually listen to false teachers and self-declared prophets"
Evils listed:
Wealth and Entertainment,
viewing podcasts and internet sites that raise questions and doubt without being intellectually honest enough to present fully and adequately the lord's perspective
16:00 – "There is nothing wrong with asking questions about our history, doctrine or practices."
Bishops, Stake presidents, parents, auxiliary leaders – don't brush the question off, or doubt his dedication to the lord.
17:00 – I'm concerned about people who ask sincere questions being treated as though they are faithless. This is not the Lord's way
We need to do better in responding to every question
17:40 – We may not be able to answer every question about our history, doctrine. We can answer those who are sincere
18:02 – We may not always find satisfying answers to our questions. "Still a place in a religion for faith".
The lord does not require his saints to have advanced degrees in history or doctrine.
18:46 – Even among the first presidency and quorum of twelve apostles there are those who have very different backgrounds and training
When I have a question I cannot answer, I often turn to those who can help me.
19:10 – The church has trained scholars who have devoted a lifetime and have come to know our history and the scriptures. These thoughtful men and women provide context
19:44 – The Church is dedicated to transparency and has published precious resources to provide even more context to the story of the restoration. Through the JSPP website, and the gospel topic essays and on LDS.org
20:34 – Casual of listening to and following the Lord's servants due to proximity to church headquarters
Missionary Farewells are a problem
21:50 -We hope also that elaborate open houses will not prevail. No public reception
22:55 – Live beyond their means in an attempt to keep up with neighbors
23:48 – Turn off the social media (to spend time with family)
24:00 – Hold family council.
24:17 – Pokemon Go. He doesn't understand it, don't ask him about it, but it causes people to look down at their phones rather than view the beautiful creations of God's world
25:05 – Tying it to lack of men getting married
25:20 – History filled with persecution.
Missionary work emphasized
28:25 – Unprecedented access to educational opportunities. – Caution about learning